Digital Media Receiver featuring 6.8" WVGA Capacitive Monitor / USB Mirroring for Android Phones / Bluetooth / 13-Band EQ / Shallow Chassis
Smartphone Integration
USB Mirroring for Android
Seamlessly display your Android phone on the JVC screen via USB. Touch control is supported from both screen and smartphone.

How to USE
Step-1 : Simply download the free Mirroring for JVC app.
Step-2 : Connect your smartphone via Bluetooth and USB.

Mirroring OB for JVC App
For more information, visit here.
You can enjoy apps like these and more!
Navigation App


Video App

SNS App


Bluetooth® Wireless Technology
Bluetooth Voice Recognition
Improved Sound Quality with HFP 1.6 Wideband Speech
Improved sound quality thanks to HD Voice contributes to a higher level of voice recognition accuracy.
Bluetooth AVRCP1.5 for Versatile Song Selection
In addition to repeat and random playback of music files, you can also easily search for songs using the browsing function. Just look for and choose the song you want to hear from the folder name and song name lists.
Sound Optimization

Time Alignment
By selecting the speaker type and the distance to the center of the listening position, the receiver will automatically adjust the timing of the sound output from each of the speakers so that the sound from each of the speakers will arrive exactly at the same time to the listening position.


13-Band Equalizer
Use the 13-Band Equalizer to manually adjust the sound to your taste.

General
Capacitive Touchscreen
Capacitive touch screen has high clarity and allows for easier functioning with lighter contact and greater accuracy.

Various Formats Compatible
Supports a variety of file formats for audio and video playback.

Shallow Chassis
The reduced depth of the chassis contributes to a weight reduction and facilitates easier installation.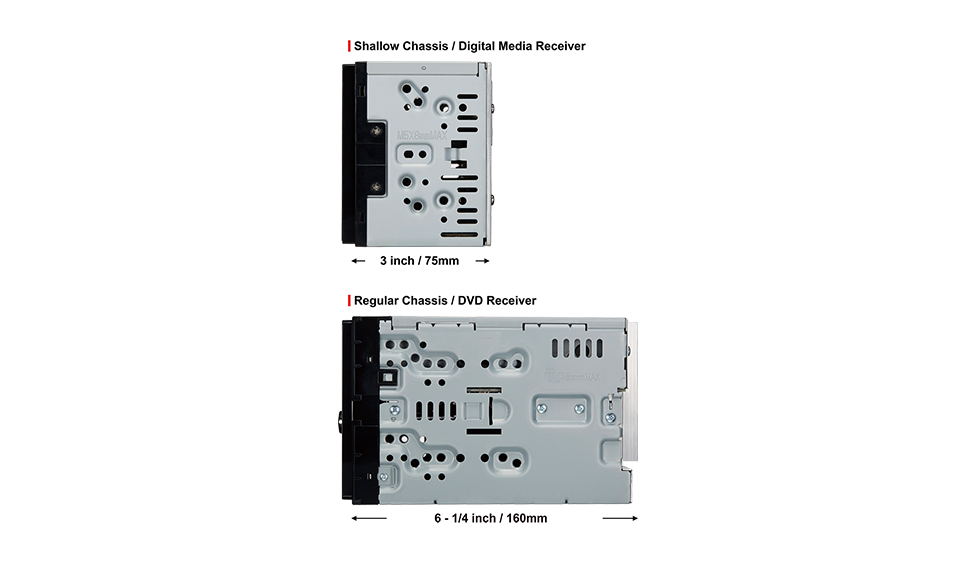 Rear View Camera Ready
The Rear View Camera input allows you to connect an optional rear view camera (sold separately).
Rear view cameras allow you to safely back up your vehicle, monitor towing, and more.
Waterproof design
1/4" color CMOS sensor with effective 380,000 pixels
Flexible mounting bracket included
Camera dimensions (WxHxD): 23.4mm x 23.4mm x 23.9mm
Weight: 21g (Camera only)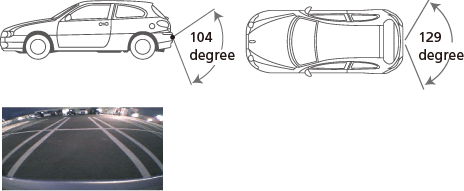 Steering Wheel Remote Control Ready
Factory steering wheel control functions can be retained with a third-party adapter (sold separately).
Remote Control (Optional)
Remote control (RM-RK258) is optionally available.